LUXURY YOU CAN AFFORD
The Mercedes-Benz Affordability Calculator
THE LANDSCAPE
A competitive market
Mercedes-Benz Financial Services provides finance and insurance solutions for passenger vehicles sold in Australia. We partnered with Mercedes-Benz Financial Services to create an engaging and interactive platform to help them stand out from the crowd in a notoriously competitive marketplace.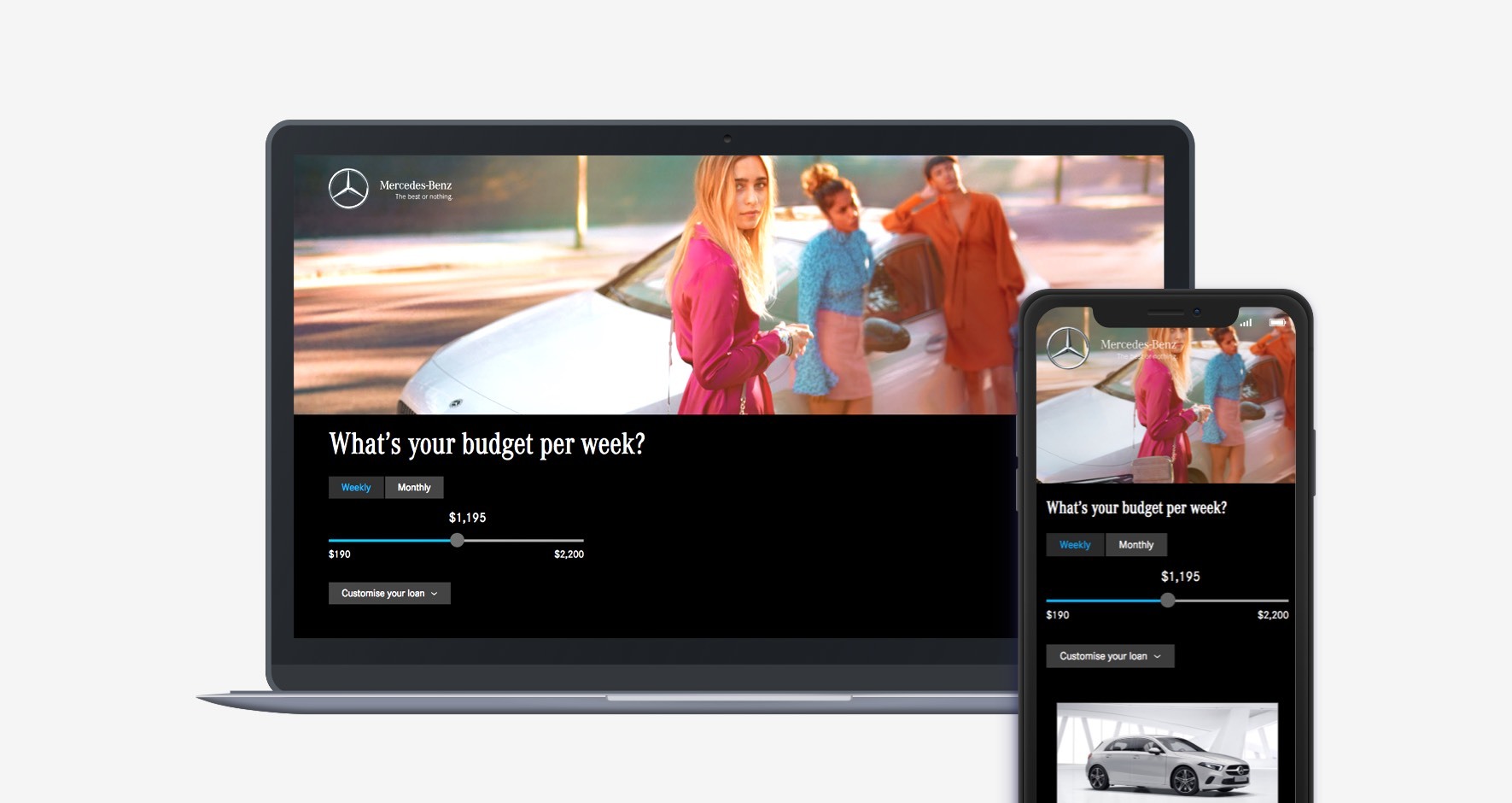 THE CHALLENGE
Creating an intuitive Mercedes-Benz experience
From the outset, we agreed the solution would need to be lightweight, flexible, and optimised for a wide variety of screen sizes and contexts. We knew that users would arrive at the site both organically, through marketing campaigns and via touchscreen devices set up in dealerships.

We also needed to create a solution that worked just as well for return customers as for first time prospects - some of whom have very little in-depth knowledge of vehicle finance.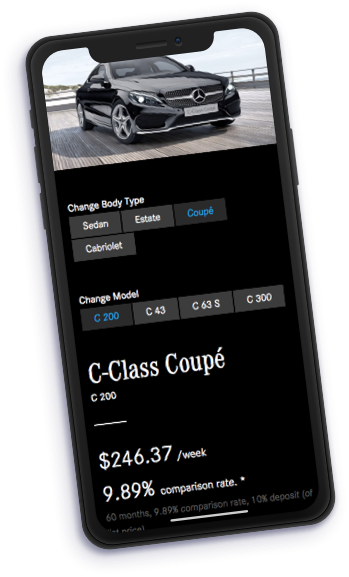 OUR OPPORTUNITY
Driving retention through improved user experience
Most importantly, we needed to seamlessly connect customers to the dealership network, so they could be followed up to book a test drive, talk dollars, or simply make that initial visit with the car of their dreams.
We kicked off with some research and recognised a key opportunity. This was our chance to simplify the traditional affordability calculator in order to simultaneously create a smoother experience, reinforce the Mercedes-Benz brand, and drive higher quality leads.
It was really important that we understood the motivations for users browsing the range of Mercedes-Benz vehicles. Were they aspirational, or working toward a specific budget?
Harley Donaldson
Design Director
Making it personal
With the understanding that everyone's financial situations are different, we set out to enhance the online tool by building in the ability for customers to browse cars based on their weekly or monthly budget. We also built in functionality to "customise your loan", whereby customers could further explore what vehicles were within their reach by adjusting the loan term and deposit amount.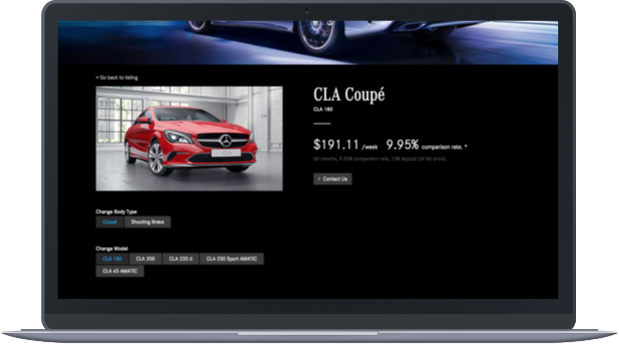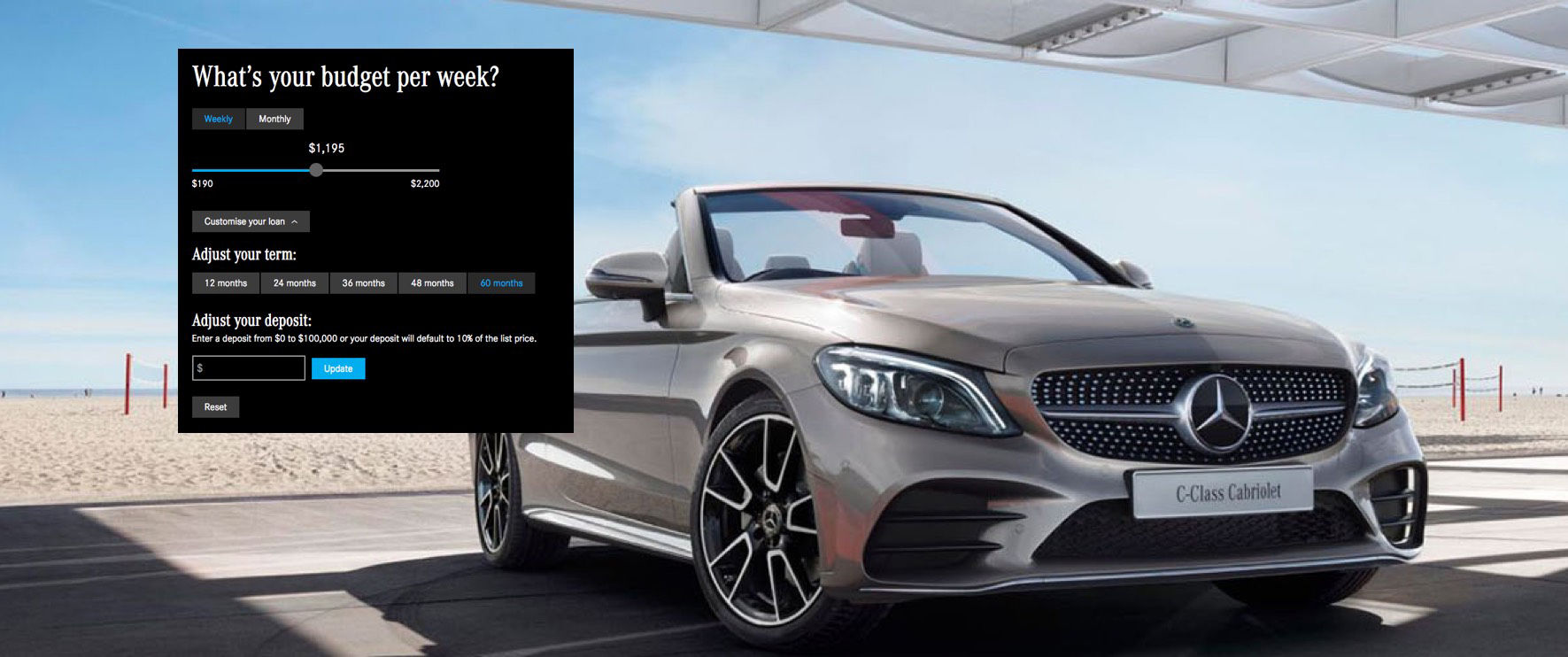 THE END RESULT
Elegant Simplicity
Using our tried and true methodology, we fast tracked a solution that offers users clear and valuable information, combined with a little bit of education and inspiration — all delivered through a beautiful and easy to use responsive interface. Add some smarts under the hood to help maintain the system and intuitively connect visitors to their nearest dealer, and we think we're onto a winner.