As a digital product agency, we understand the significance of GenAI and how it can transform our clients' businesses. We believe that it has the potential to solve some of the most challenging business problems and help our clients stay ahead of the competition. As such, we are committed to investing in GenAI research and development so that we can evolve our offering to meet the changing needs of our clients.
The recent hackathon we hosted was the first step in our journey towards upskilling our team and exploring the vast possibilities of GenAI applications. The hackathon allowed our team to collaborate, learn, and experiment with GenAI tools and technologies. It was a chance for us to think outside the box and explore innovative solutions that could drive positive outcomes for our clients. We were thrilled to see the level of enthusiasm and commitment from the team, and the results were impressive.
We organised the hackathon by forming small, multidisciplinary teams and provided a week for ideation and planning. On the day of the hackathon, the teams had a full day to collaborate and create a prototype, which they presented to a judging panel for feedback. We were thoroughly impressed by the innovative ideas and polished presentations. Through this experience, the team gained valuable insights into GenAI's capabilities, limitations, and potential.

After the presentations and demonstrations, the judges made their final decision on the winning team. The prize was awarded to "Hack to the Future," who created a service that can transform client requests into actionable ClickUp tasks using ChatGPT to automatically populate details. The judges were particularly impressed by the team's slick demonstration and the broad range of applications for the concept.


The Teams:
"I'm Sorry Dave" -
Problem: Getting back to work after a break is already a headache. Catching up on everything dials it up to a migraine. Solution: Abby (powered by ChatGPT) takes the pain out of returning to work by summarising your missed Slack messages in a smart and easily digestible manner including a to-do list of what you've missed.
Tech Used: Slack API, OpenAI
"The Sixth Sense / Hackstreet Boys and Girls" -
Problem: Urban Rest's guests stay in unfamiliar locations for extended periods and local knowledge is provided by the Urban Rest team. This model of providing knowledge is expensive, variable and doesn't scale well.
Solution: Leverage AI to deliver personalised local suggestions to help guests have a great stay without adding more work for the Urban Rest team.
Tech Used: openai chatGPT version 3.5 davicini, google maps API, D-ID (AI Presenter Video's)
"Hack to the Future" - (THE WINNERS!)
Problem: Clients expect bugs, ideas, and enhancements to be triaged in a timely manner. The process of triaging these requests is time-consuming and unstructured.
Solution: A service that turns client requests into actionable ClickUp tasks, with details populated by ChatGPT.
Tech Used: ClickUp, OpenAI
"AI think, therefore AI am" -
Problem: How do we leverage AI to help make ClickUp more discoverable, usable and valuable
Solution: By making data and information easier to find through AI, we'll significantly improve the tool's value and experience.
Tech Used: Slack API, OpenAI, ClickUp
"Ctrl-Alt-Defeat" -
Problem: Inlighters spend a lot of time querying existing assets to find information that is relevant and valuable for what they need.
Solution: A virtual assistant connecting people to relevant assets and information and surfacing or generating reusable content.
Tech Used: Langchain, OpenAI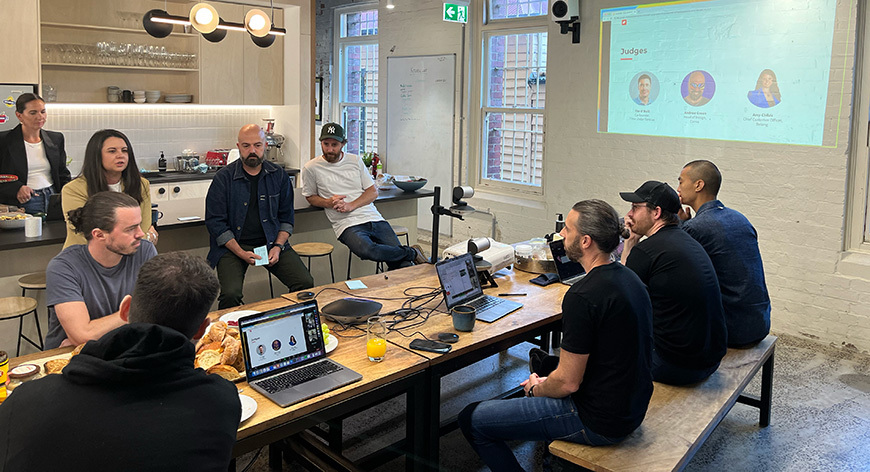 The hackathon was the first step towards understanding and applying GenAI to our client's businesses. We are committed to fostering a continuous learning culture at Inlight and will continue to experiment and upskill in the application of Generative AI. We believe that Generative AI has enormous potential and are excited to incorporate GenAI services into our offering.
If you'd like to discuss how GenAI could impact your industry or business, why not consider engaging us to provide any of the following services:
Education: Generative AI education and consulting through our partner, Time Under Tension
Ideation: Exploration and ideation workshops to explore how Generative AI could solve challenges in your business
Creation: Design, build, and testing of Generative AI applications for your business

You can email us using this link, we'd love to hear from you.