7 Eleven
Rapid product validation

Executive Summary
The Client
7-Eleven are one of Australia's largest private companies, with more than 700 stores located in neighbourhoods across Victoria, New South Wales, ACT, Queensland and Western Australia.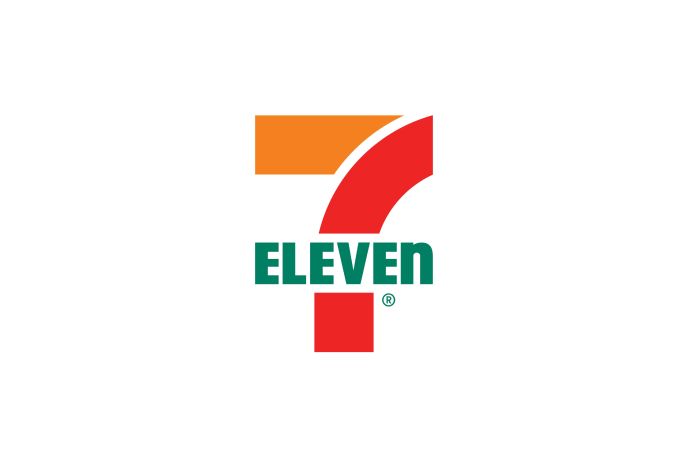 Discovery
Innovation delivered
The 7-Eleven innovation team allows 7-Eleven to explore new business challenges and opportunities and validate the best approach for 7-Eleven as a whole.
Inlight partnered with 7-Eleven to rapidly develop a solution through to a pilot trial to empower 7-Eleven to make an informed business case for utilising digital to gather accurate customer feedback and dramatically scale the data collection over the existing process.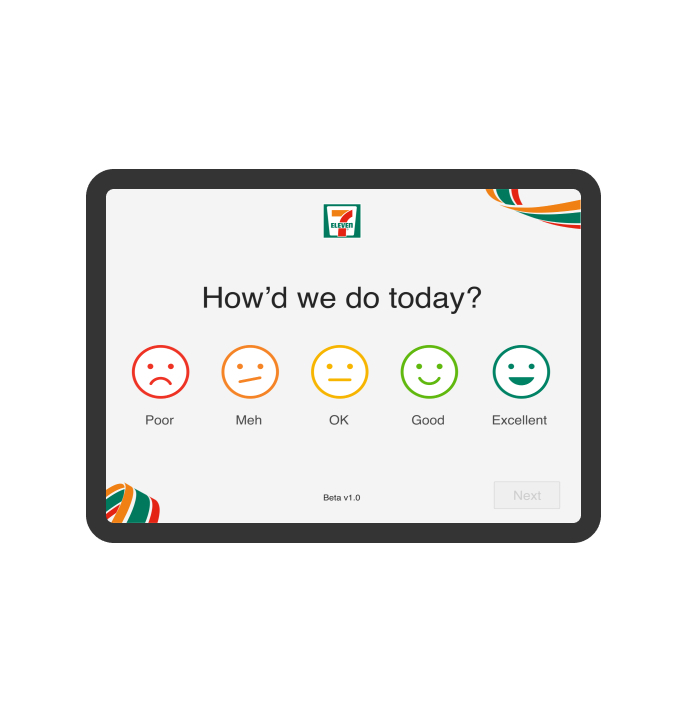 Approach
Deliver value early & don't overcomplicate things
Being a trial to validate the next move for 7-Eleven meant focussing on the key parts of the product that needed to evaluated. What is the real problem we are trying to solve? What data was required to inform the business? What end-user experience was required? What tech choices can be made to deliver value fast?


Design sprints
Utilising design sprint thinking via Inlight's 'Idea Spike' and by focussing on the challenge and opportunity at hand, we were able to rapidly validate a prototype, suitable for ongoing Proof of Concept development whilst constraining costs & time of development to minimise risk
Leveraging a serverless API paired with a React frontend allowed 7-Eleven to develop custom, branded creative and paired with early adoption of AWS Rekognition added a new dimension for data analysis, sentiment tracking and improving quality of data.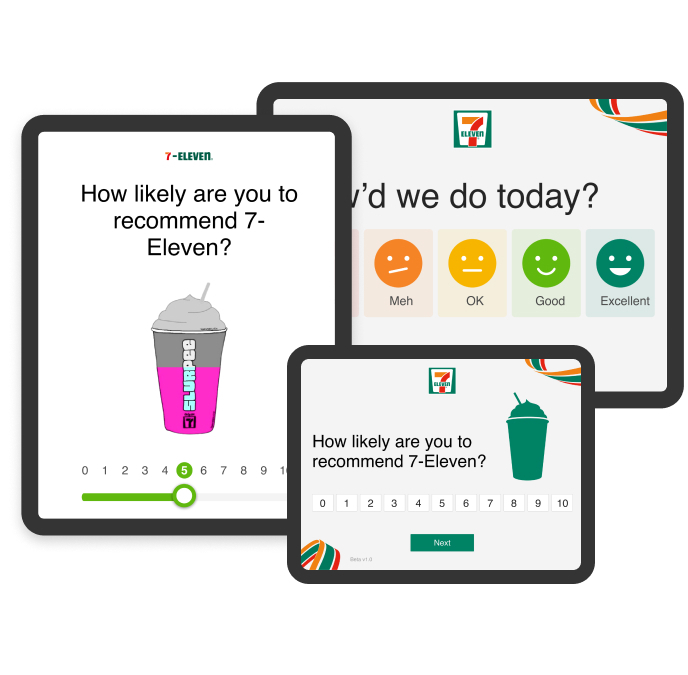 In store trial
Smart tooling choices such as using Expo, allowed Inlight to establish lightweight remote support without needing a custom app developed or reviewed via the app store, streamlining development and ongoing optimisation during the trial.
Using a bit of old-fashioned elbow grease to support setup in-store and 7-Eleven were up and running, proving the prototype out in market with real customers for a control trial.
During the trial, Inlight analysed the data collected and rapidly deployed changes across the surveys to continuously test hypothesis and optimise the experience for 7-Eleven customers and the 7-Eleven Innovation team.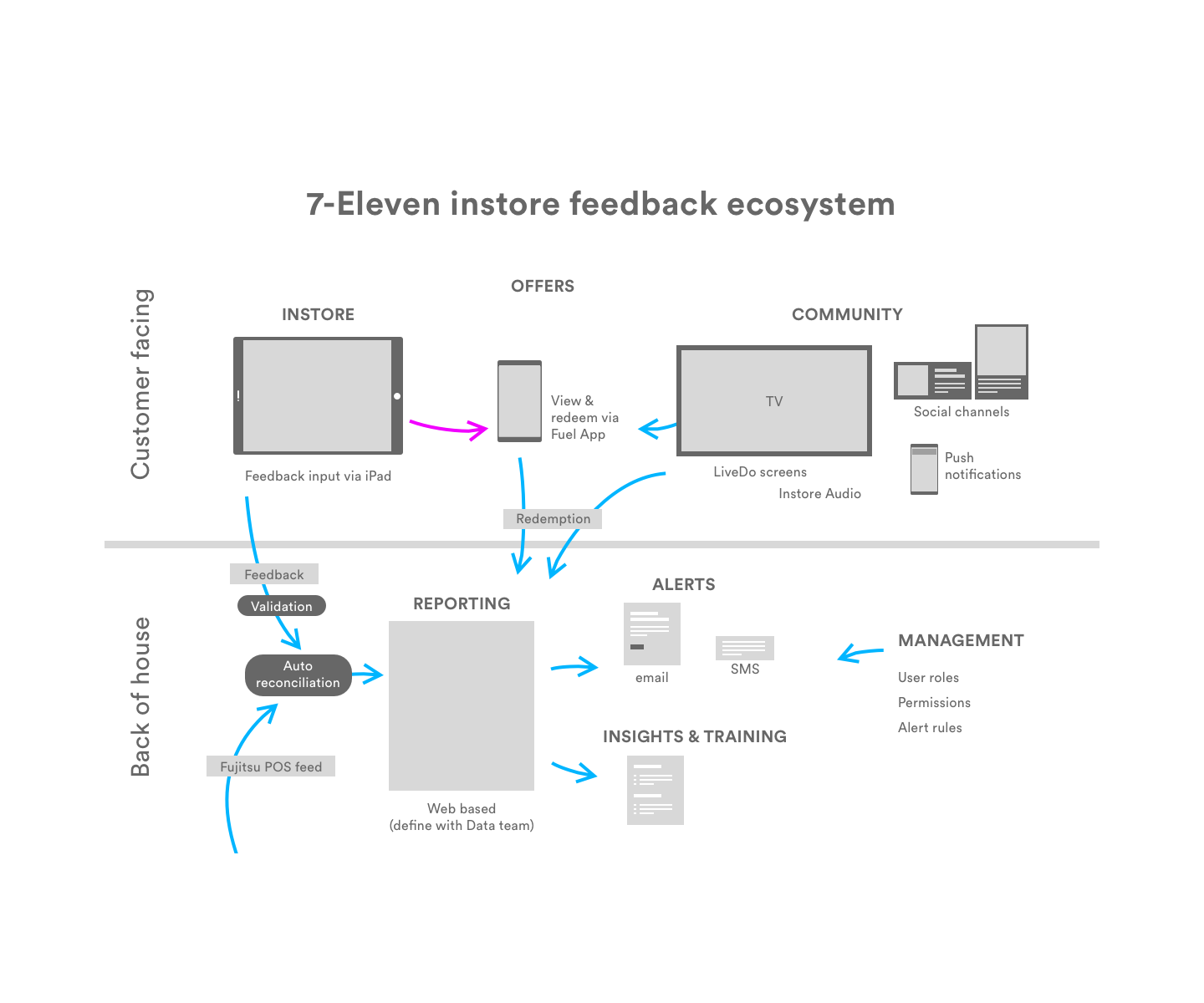 Release to market planning
It's one thing to develop a proof of concept product and get into trial quickly, it's another to map out potential release planning and cost of ownership for over 700 potential locations, each with their own logistical challenges.
Inlight supported the planning of a potential rollout, cost of ownership & product planning to give 7-Eleven the information they needed to conclude the trial and prepare the business case.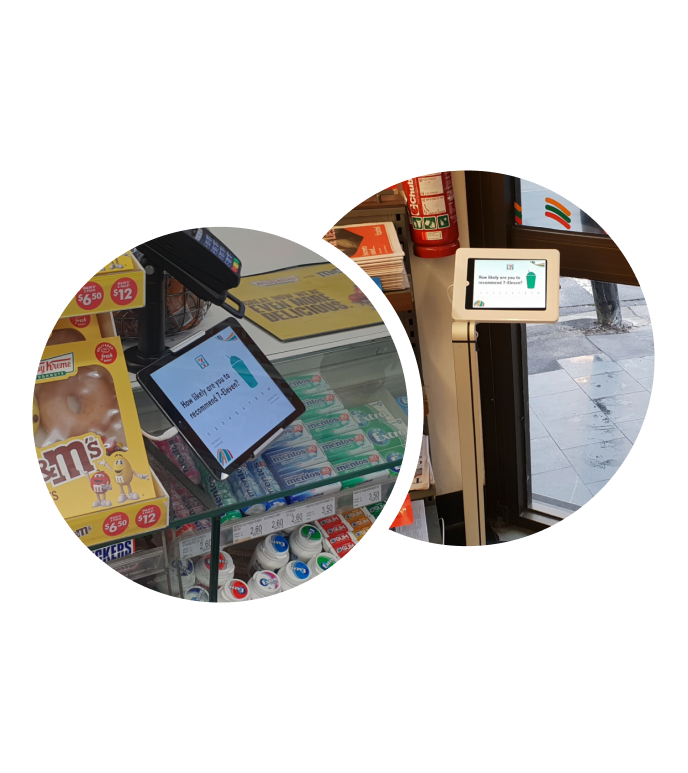 Results
Data driven results
Data driven evidence of where to place NPS screens by store type & location
Proven impact of creative on response rate
Uncovered behaviours by staff that improve the customer experience
Optimised wording of questions to get better quality data