IAG
Optimising SGIO & SGIC platform
The Brief
Results, fast.
Insurance Australia Group (IAG) is one of Australia's leading insurance providers, approached Inlight with very clear goals; increase the volume of qualified users entering the sales funnel by 10%, and increase usage of the self service portal. Inlight delivered UX and design enhancements to the SGIO and SGIC websites within an eight week timeframe.
Step 1: Rapid immersion
Diving in at the deep end
From the get-go we faced challenges common to the insurance sector - complex product, customer and pricing data and legacy IT systems.
Inlight ran a series of focussed business context and deep-dive workshops with key stakeholders. We prioritised our ideas using the trusted AgencyAgile roadmapping process, resulting in an achievable action plan just days into our engagement.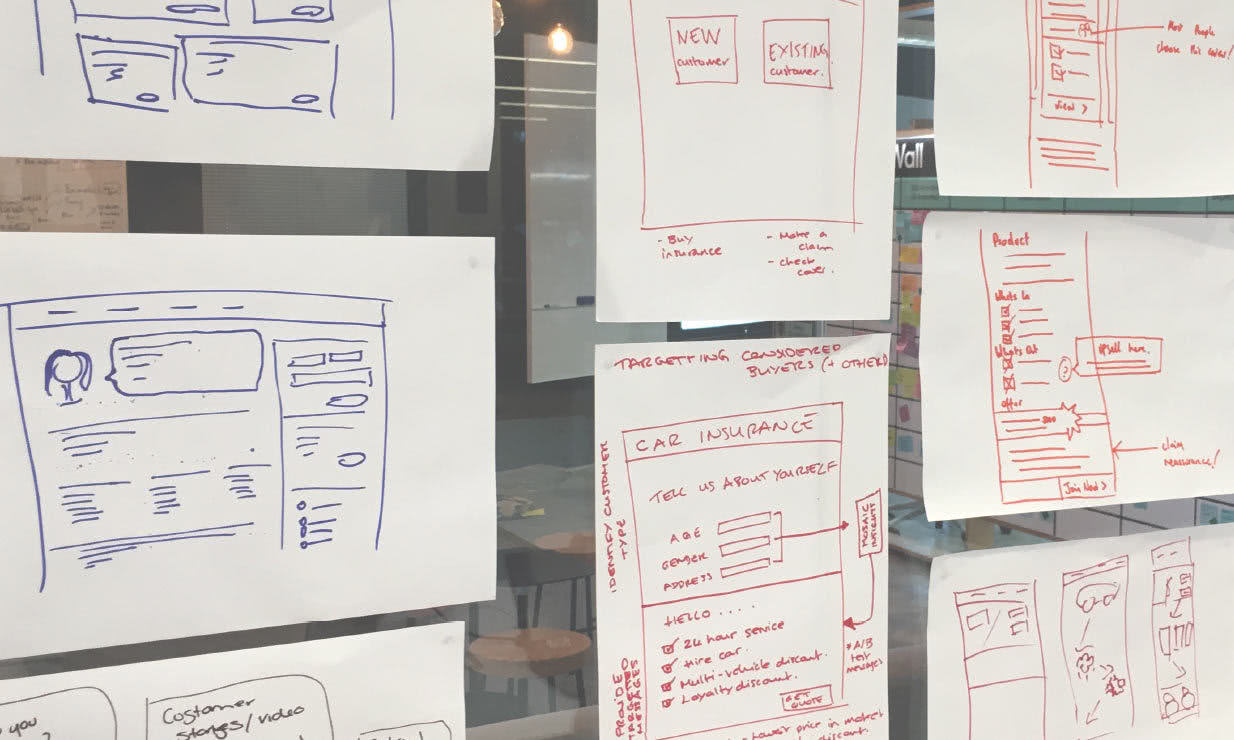 "Overall Inlight's approach to this project was extremely collaborative, delivering a strong result in tight timeframes."

Michael Valaris
Digital Execution Manager, IAG
Playing nice
Collaboration is key
Partnering with five internal and external parties to deliver the project was just an average day at the office. We decided early on to co-locate with IAG's team, in order to break down any physical barriers to collaboration.
Needless to say, the project required robust planning and agility. Working in an agile manner, we maintained regular showcases with key client stakeholders, enabling the client to provide timely feedback.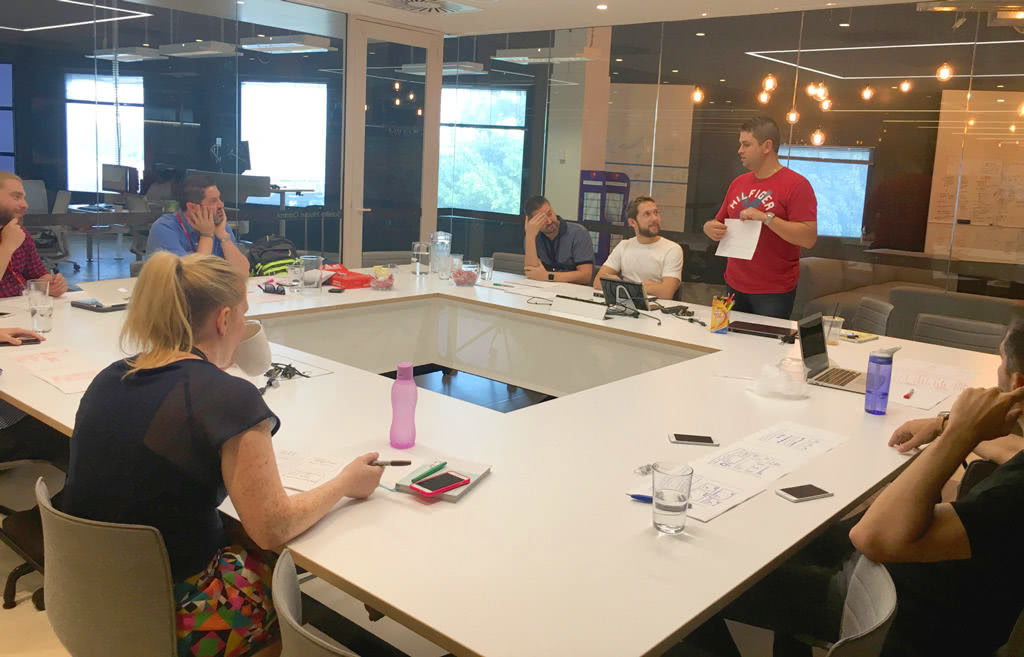 We ran workshops across the business to understand how we could have the greatest impact.

Laura Chisholm
CEO, Inlight
A better experience
Simple, helpful, consistent
With the goals of increasing conversions and differentiating the SGIO and SGIC websites from competitors, Inlight was responsible for creating the UX, visual designs and front end code, which was then integrated into IAG's content management system.

We reimagined the user flow in line with best practice, reducing the number of clicks to product information and simplifying the content itself. Users can now compare products at a glance, helping them choose the right product for their needs, bringing IAG's brand essence into content.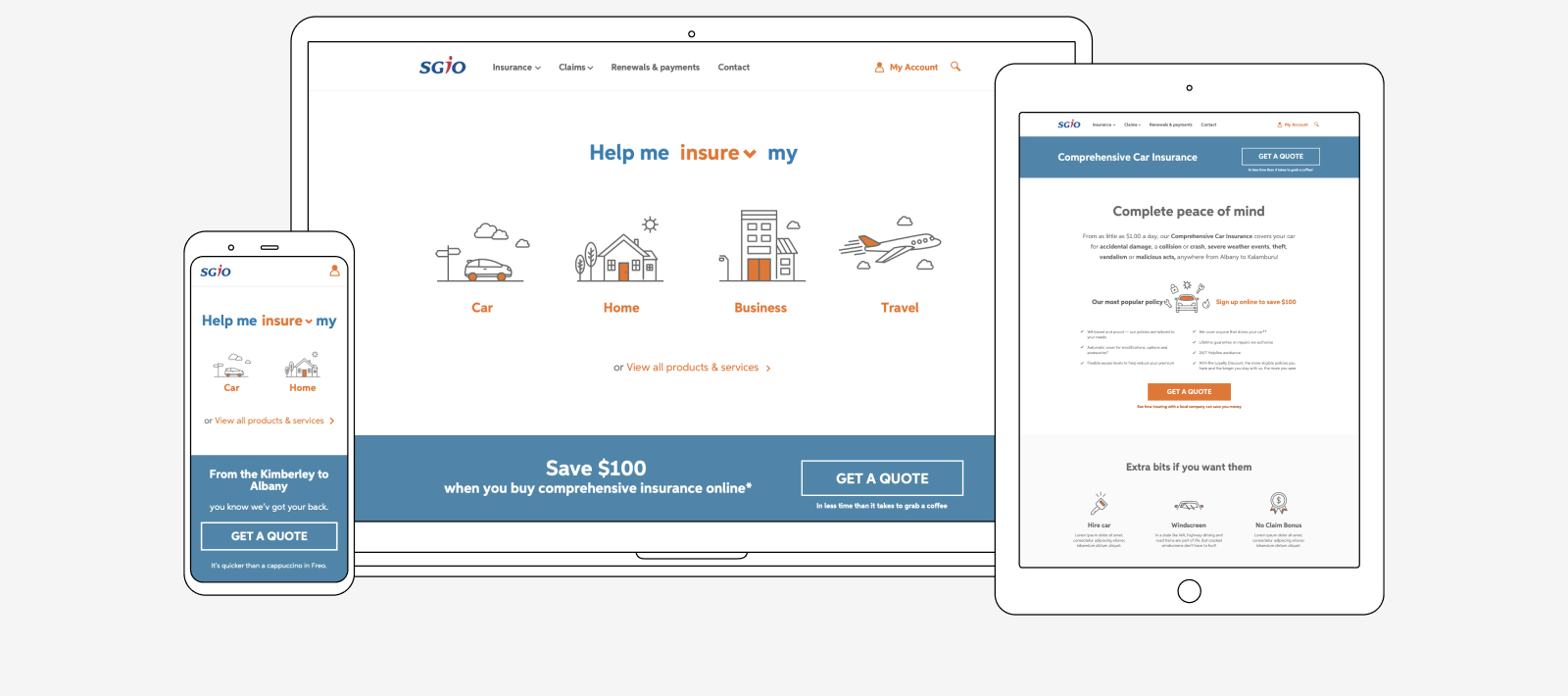 Working within tight business constraints really made us focus on the most creative ways to deliver results.
Harley Donaldson
Creative Director, Inlight
Better and better
Test & Learn
Our UX team also implemented a rigorous test and learn approach with A/B testing on key points in the user journey, including varying the call to actions, images and other content. This will continue to drive better business outcomes by improving functionality that best supports user and business objectives.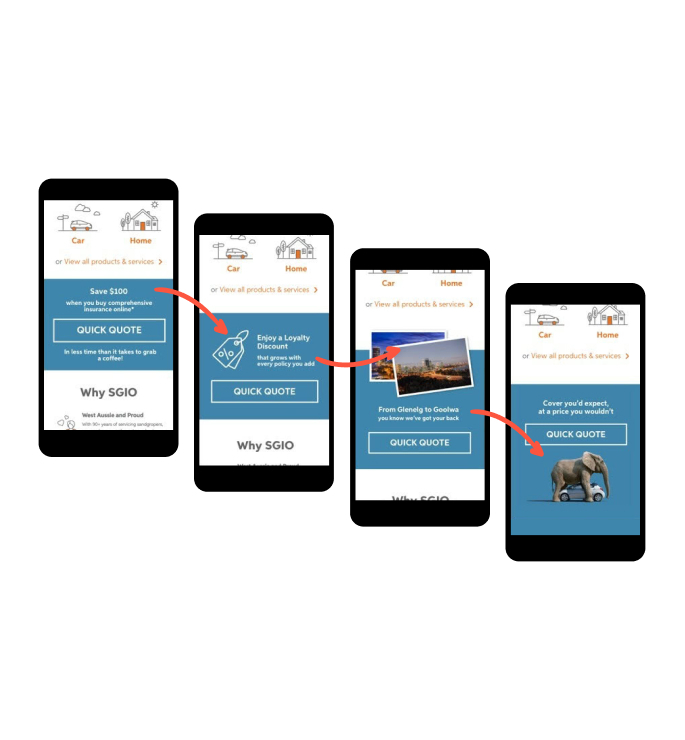 Inlight got to the heart of our objectives quickly. We look forward to building the partnership as we evolve our channels further.
Karen Taylor
Senior Manager, SGI
Results
What did we achieve?
The results for this project speak for themselves.
Overall results for the first month in market are fantastic and something we hope to build on.
33% uplift in commenced Quotes for Motor Insurance
12% uplift in additional Motor Insurance policies sold
The improved experience led to better customer journeys
14% uplift in traffic to the Motor insurance section from the Homepage
408% uplift in start quotes from the Motor Insurance category page
Introduction of the Mega navigation and improved footer have led to an easier and more transparent customer journey into the sales funnel
170% increase in clicks of the 'Get a Quote' CTA overall
192% uplift in clicks of the 'Get a Quote' CTA from the improved Footer alone