Health Discovery Quiz
Consumer driven lifestyle study
Background
It's all about wellness
When Swisse had a key partnership with one of the biggest events in the USA related to Wellness, it was all hands on deck to look at how we could best support an on-site event activation for the team.
Swisse are known for their natural, sustainably-sourced premium ingredients coupled with their mission to help people around the world become healthier and happier.
In 2018, Swisse partnered with Wanderlust Festival as one of its primary Wellness sponsors in the US market. It was a great opportunity for Swisse to test a new platform to engage with consumers at events, capture information and effectively suggest relevant content.

The Objective

Create and deliver a Swisse Health Check. This survey would allow Swisse to begin having a 1 to 1 conversation with their consumers about gut health and diet.
Inlight and Swisse together saw this as a great opportunity to capture 1st party data and build out a database of Swisse Wellness members.

Listen + Think
Rapid ideation
With a short and fixed deadline ahead, we leveraged the insights gained during the design of the new look and feel of swisse.com.au to hit the ground running.
We got stuck into conceptual designs pretty quickly, sketching out the user flow on pieces of paper and walking through these with the client early on. As we were ideating the solution for the lifestyle discovery platform the event activation team from the US were working on conceptual designs for the event space in parallel.
We're a collaborative bunch at Inlight, so we enjoyed the opportunity to have regular touch points with our clients through this phase to make sure the thinking was aligned to the concepts being developed and the end goal in mind.

Make: The Solution
User Journey + Design + Data 
Designing an exceptional UX was essential as the product was being designed predominantly for iPad and we needed to make sure it was a seamless and quick experience for people to move through the activation.

In addition to this we needed to find a solution that would manage the inevitable issue of intermittent internet at a festival.
Users were able to interact with the quiz on a tablet through a simple 5-question quiz format, Swisse were then able to capture essential information about a potential consumer then follow up via email with personalised recommendations for Swisse products and lifestyle tips.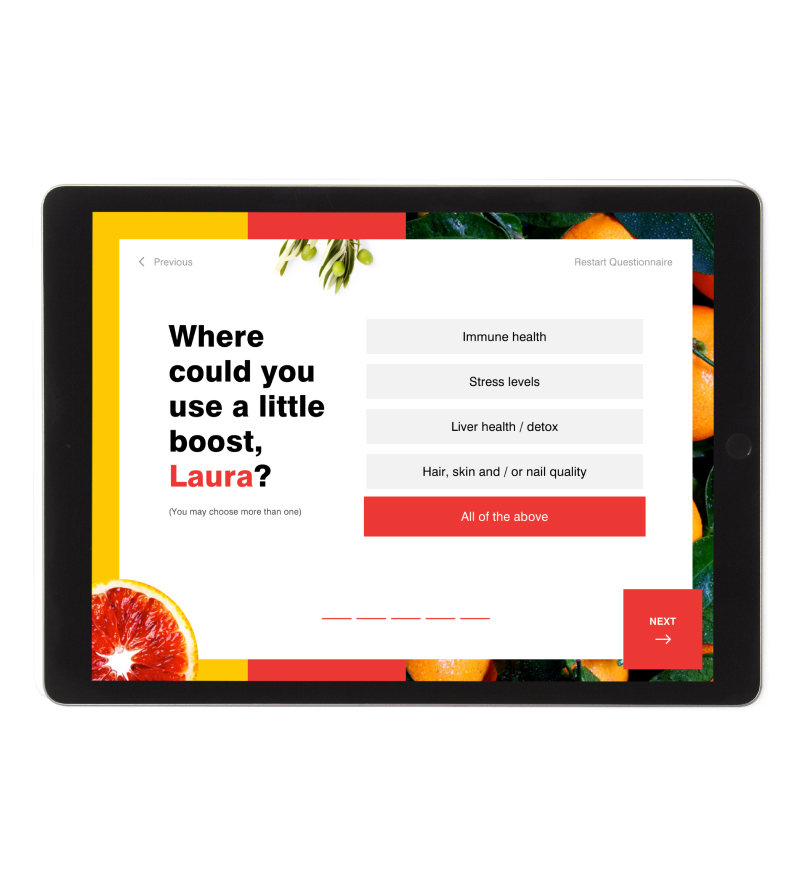 We had to ensure that it was quick and easy for our audience to complete the quiz onsite.
Hoping to avoid people having to queue for too long it would also allow event attendees to move effortlessly through the actual activation and sensory experience.
Leveraging this platform to help build a profile of our user and ultimately help generate more insights on our consumers was a big driver in the Lifestyle Discovery Quiz.

As an initial trial with the US market, this product also provided an opportunity to learn about how consumers were interacting with the quiz length, format and style of questions that they engaged with.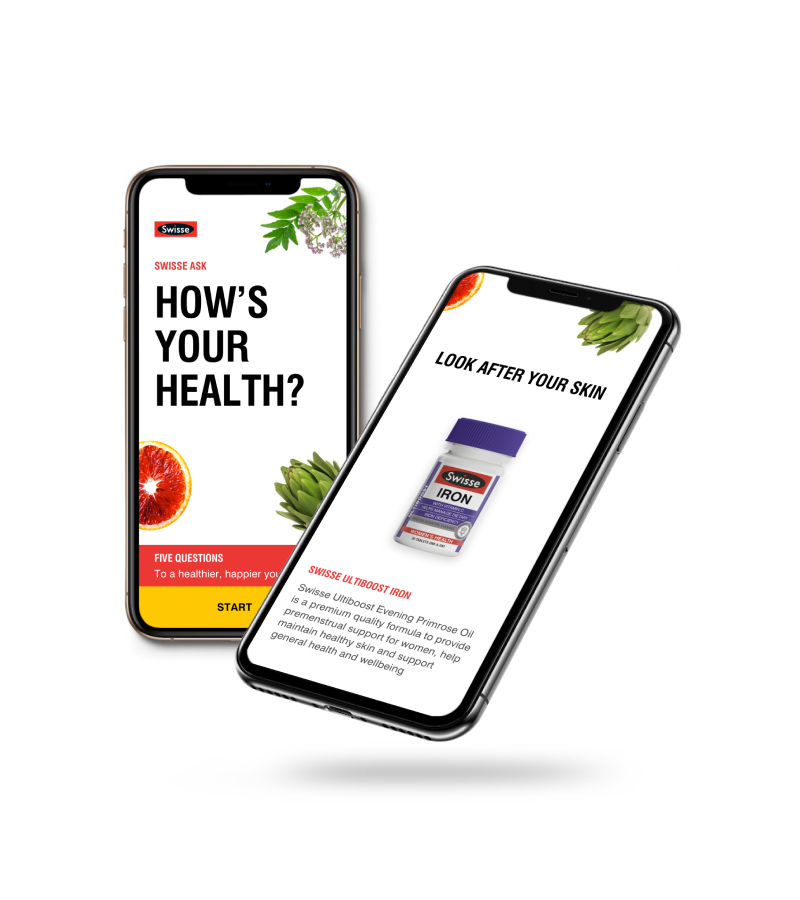 Results Driven
The Outcome
Since the platform's development for the initial partnership, we've been able to leverage the platform again for the more recent Super Bloom Festival partnership in Melbourne. Customising for the local audience, we tweaked the design slightly and pushed more personalised content into the post-completion email delivered to our consumers. We've got big plans to leverage this in many ways across the Swisse teams, from nutritionists out on site, to recruitment candidate survey tools, to micro-pulse style surveys throughout the Swisse digital ecosystem.
We managed to roll this out to 15,400 attendees across 6 cities resulting in 3,270 completed surveys.

Overall, we've seen a high engagement in the emails delivered post-quiz, generating 26.9% open rate and 2.2% of click through to product or blog content.
In today's busy lifestyle environment it's no surprise that an overwhelming percentage of our quiz responses indicated our consumers are tired, having trouble sleeping and need some help with their gut!